Looking for organic groceries in Seoul ?
Perhaps you're looking for a way to impress during your next date night. Or you want to pamper your taste buds without getting out of your pajamas. Maybe you're just tired of choosing between convenience store kimbap and fried chicken delivery every night. Instead, you're thinking authentic European cheese, artisan cured and smoked meats, grass-fed hanwoo beef, and fresh fruits and vegetables from around the world…
If that's the case, you don't have to look too far. An increasing number of gourmet grocery stores are opening across Seoul, delivering these and other specialty items right into your shopping cart. Here is a list of organic grocery stores in Seoul you should explore.
Organic Grocery Store Locations In Seoul
SSG Food Market in Cheongdam offers a wide range of high-quality groceries, from produce to specialty teas to a huge meat and seafood department.
You can even find organic home and body brands like Seventh Generation here. In the middle of the store is a small food court with a busy international restaurant and a café.
Hours: 10:30 am – 10 pm
Galleria Gourmet 494 in Apgujeong opened in October 2012 offering almost 24,000 square feet of premium foods and restaurants.
Here you can select fresh beef, fish, or produce in a shop and enjoy it minutes later at one of the many neighboring restaurants. Gourmet 494 imports over 170 premium food items from countries around the world.
Hours: 10:30 am – 9 pm
Wine, cold cuts, pasta, olives, oils, crackers & every cheese on the planet make Chunk of Cheese THE stop for your gourmet cooking or party needs. Foodies, don't go unless you have plenty of time to peruse the shelves, lest you be disappointed you had to leave so soon.
Chunk of Cheese, Gyeongnidan's only specialty cheese shop, boasts over 80 cheeses and a variety of hams, salamis and sausages from around the world, this shop can take a wine and cheese night from good to great.
Hours: 11:00AM – 11:00PM
If you're frustrated with the lack of organic foods in your local supermarket, check out Orga Whole Foods, a chain with six locations across Seoul.
Orga institutes strict standards for the items they carry—ready-made foods must comply with their quality and eco-friendly standards, while all produce is organic.
Hours: 10:30 am – 9 pm
Sprout provides completely vegan food available for pickup once a week, with a rotating menu that always include salads, soups, grain-based dishes, and decadent desserts.
Online-Only Organic Groceries in Seoul
For those who are busy (or lazy), there are plenty of online options for gourmet, international, and organic food and ingredients. All listed websites are in Korean.
This store has an enormous selection of ingredients and snacks from all over Southeast Asia, though they also carry some Mexican and European foods.
Did you know that there is an 800% tariff on quinoa and oatmeal in Korea? That sure makes eating these healthy foods more challenging than necessary. If you are looking for organic groceries delivered to you in Seoul or anywhere in Korea, then order from iHerb and dodge those Korean tariffs. Plus you can get free stuff the first time you order.

From cheese and butter to oil and vinegar to premium flour, ItalCore imports everything you need to make an authentic Italian meal. All products are certified Italian.
Specializing in spices and sauces, Yum also carries foreign pastas and hard-to-find canned foods, plus an entire section dedicated to making your own chocolate.

Organic Groceries OUTSIDE SEOUL
If you've got a car, From Farmers (Nongburobuteo, 농부로부터) in Paju offers pesticide-free food products straight from the source. The farmer-owned enterprise has received a great deal of press for its healthy, high-end Korean ingredients and products, such as doenjang and gochujang, soy-pickled vegetables, organic rice, and more.
Where: Gyeonggi-do, Paju-si
Hours: Weekdays 10 am – 6 pm / Sat 10 am – 7 pm / Closed Sundays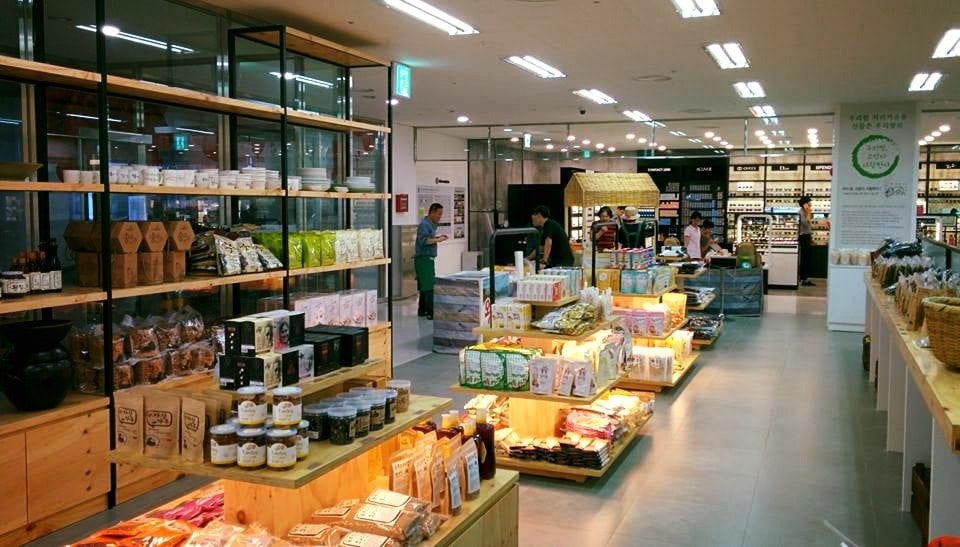 Leave a comment below if you have anymore grocery stores that have organic groceries in Seoul or anywhere in Korea!
You can also check out 10 Simple Ways To Save Money On Groceries In Korea.