Words by Luigina Webb When was the last time you saw someone wearing hanbok to work, or on the subway...
As we welcome in another New Year with copious amounts of food and alcohol in homes or at local pubs and clubs, let us pause for a moment and reflect on how the New Year was celebrated by Koreans a century ago. Although the solar New Year – December 31/January...
Korea, in the summer of 1894, was a hotbed of intrigue and uncertainty. China and Japan were on the brink...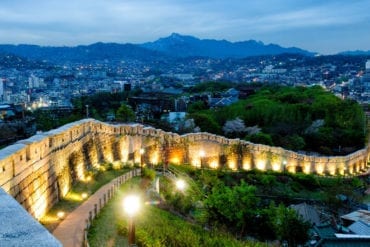 At the mention of castles in Korea, images of pink-walled, crenellated love motels may spring to mind. Towering beside expressways...
We have all been taught that aviation history was made on December 17, 1903, when the Wright brothers managed to go airborne for 12 seconds in a heavier-than-air vehicle that we now call an aircraft. But were they the first? Korea's history is also sprinkled with accounts of flight. In...
In the late 19th and early 20th centuries, one of the most important events in village life was the five-day...
History isn't without its foibles and quirks. If it's not lack a of information about Shakespeare, then it's the real...
Modern Seoul is filled with hotels and getting a room is generally not much of a problem, but it wasn't always that way. The first hotel to cater to Westerners was established in 1884 near the Japanese legation. At first, the hotel was used to house sailors from the American...
If you have a lot of Korean friends you have probably been invited to go to a sauna or jjimjilbang...