If you're looking to get a taste of the Philippines during your time in Seoul, try out the Daehangno Filipino market! Every Sunday, a little corner in Hyehwa-dong comes alive with stalls that sell various goods and treats from the Philippines.
So, whether you're Filipino and feeling a bit homesick, or you just want to try out something new this weekend, here are 6 reasons to visit the Daehangno Filipino market!
1. You'll enjoy the warm atmosphere
Filipinos are known around the world for their hospitality, and you'll definitely get a taste of that friendly and welcoming atmosphere here. The market isn't the neatest and most organized venue (and it can get a little crowded and noisy, sometimes), but one thing's for sure: the atmosphere is guaranteed to be always lively.
Vendors will cheerfully greet you, ask you what you're looking to buy (you might hear, "Anong sa'yo?" which sounds a lot like the standard Korean greeting, "Annyeonghaseyo!") and offer you to eat ("Kain na!").
A lot of the vendors and customers here enjoy speaking their native tongue, but if you're more comfortable in another language, they'll happily converse in English or Korean.
2. There are treasures among the random finds there
You'll find a huge assortment of groceries and goods here—from sandwich spreads, chips, and nuts to personal care items or daily essentials like multivitamins, ointments, and deodorant.
For chefs and even those who like experimenting in the kitchen, the Filipino market in Seoul is also a haven for tons of interesting ingredients.
Aside from the usual things you would expect at a market, like meat and fresh fish, you'll also find canned sardines, tuna, and corned beef for sale. But, the best finds here are the condiments and spices. Always running out of apple cider vinegar or coconut oil at the supermarket? Hoard a couple bottles there! Looking for fish sauce, caldereta mix, sinigang mix, or gravy mix? This is the place to go. You might also want to try the "magical" seasoning mix (a pinch will instantly make any stir-fry taste better, I swear).
3. You can try various sweet and savory snacks
Have your fill of sticky Filipino rice cakes and caramelized bananas (banana cue). Or, munch on deep-fried banana rolls (turon), steamed rice cake (puto), stuffed turnovers (empanada). If you've got a bit of a sweet tooth try out some caramel custard (leche flan) and purple yam jam (ube).
Don't miss out on chicharon—pork skin, deep-fried to perfection. Dip it in vinegar to make it a sinfully tasty treat.
(Disclaimer: It's bad for your heart and your blood pressure, but it's oh-so-addicting. You've been warned.)
4. There are some uncommon tropical fruits for your picking
Craving some green mangoes? Maybe you want to try out durian? Why not get both here?
There are also green papayas and calabaza squash, which you can use for salads, stir-fries, or stews.
5. You can stuff yourself with all kinds of meat
For 6,000 won in one of the stalls here, you get a large serving of rice (double of what you would get at Korean restaurants) with stir-fried glass noodles and two main dishes of your choice.
In Filipino cuisine, meat is prepared in various way—skewered and barbecued, simmered in soy sauce, vinegar, and laurel leaves (adobo), stewed with pork blood (dinuguan), or stir-fried in a sizzling plate (sisig). Choose from chicken, pork, beef, or innards.
If you don't know which dish to pick, just ask the staff for their recommendations. They can explain what the dishes are and what yummy (or weird) ingredients each option contains.
For dessert, try some boiled plantain bananas (nilagang saging na saba) or rice cake cooked in coconut milk called suman. (so many carbs, I know!)

6. It's a great place to knock back a couple of cheap beers
While imported beers in the bars of Korea are crazy expensive sometimes, a regular bottle of San Miguel Pale Pilsen or Red Horse would only set you back 3,000 won in the Filipino market.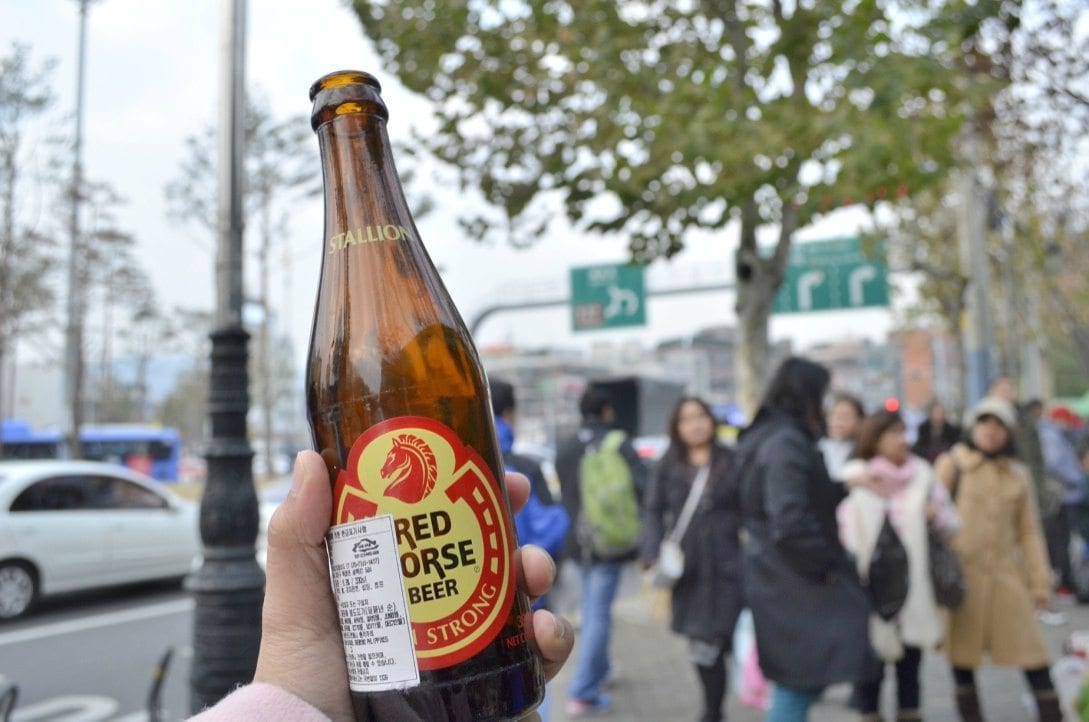 If you're drinking in the Filipino market in Seoul, pair your beer with pork barbecue skewers (just 2,000 won each).
You can also find big bottles of beer (care for a liter of Red Horse or San Miguel Pale Pilsen?). If you're building a stash of hard liquor at home, buy some gin, rum, and tequila here.
How To Get There
The stalls in the Daehangno Filipino market start setting up before noon and close by 4:00 or 5:00 p.m. Some spice and dry goods stores are open until around 7:00 p.m.
If you're taking the subway, get off at Hyehwa Station (Line 4), Exit 1. Walk straight toward the Dongseong Middle and High School and Hyehwa Catholic Church. Or, you can take bus no. 272 or 301 (and get off at Hyehwa Rotary bus stop) or bus no. 143 and 150 (and get off at Hyehwa Station bus stop).