Do you want more than just a place to stay? We do, too. For an all-inclusive experience, check out these picks for Korea's 10 best resorts. Sports, sightseeing, spas, and more are rolled into one at these luxurious destinations.
Luxury Club and Spa

For a more low-key stay, make the most out of your hotel room by relaxing in the tub or the relaxation pool that's available in every room. If that's not relaxing enough, head to the spa for one of their 100% chemical-free treatments. Banyantree is truly an escape from the city within the city.
Recreational Ski Resort

Alpensia is a recreational resort surrounded by the Baekdusan Mountain. Open all year round, people can relax and participate leisure activities while enjoying the natural scenery. The resort offers shopping and dining experiences as well as cultural and artistic events.
Scenic Getaway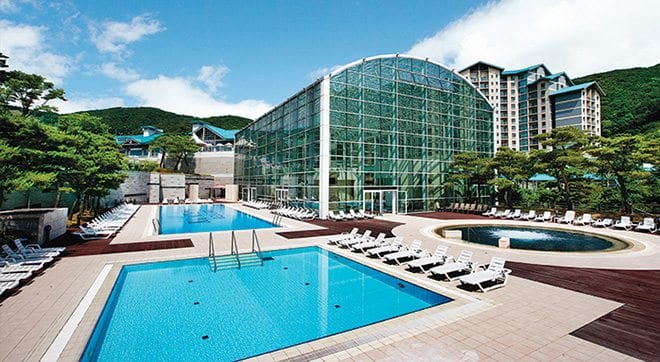 Surrounded by beautiful natural landscape, the Konjiam Resort is a renowned ski resort in Korea. The resort features 476 guest rooms and suites, along with spa treatments, botanical garden, a golf course, and ski slopes.
Little Italy in South Korea

With the stunning scenery of Mt. Seorak and the East Sea, Hanwha Resort provides a the experience of regal antiquity. Inspired by a small village in Italy, the resort recreates the essence of a European holiday spot. Guests can enjoy leisure facilities such as the water park, film and drama locations, and golf courses.
Digital and physical detox
Healience Seonmaeul is Korea's first "well-aging" healing resort, whose main purpose is to heal people, bring them closer to nature and to help them achieve a 100-year life expectancy.
Healience Seonmaeul was founded by Dr. Lee Si-hyeong, who is a well-known writer of various health books. He named the resort Healience, as a compound word meaning healing and science. This resort is known for its trekking trails with little fine dust and places with 22% higher oxygen concentration. It is one of the "31 Best Wellness Places" selected by the Korea Tourism Organization.
Accommodations at Healience are humble, the cozy and beautiful wooden rooms only offer the basics, such as beddings, a bathroom, fans, a telephone, an electric kettle… Note that cellphones, internet, electronics, pets are prohibited there.
Healience Seonmaeul not only provides accommodations, but the resort has programs to helps you change your eating, exercise, mind, and life-rhythm habits. Programs available are yoga, meditation, healthy cooking class, drawing mandalas, healing cinema, writing meditation, trekking etc.
Best Resort for Golfers

Pine Ridge Resort is a resort dedicated to golfers. Built on a golf course, the resort offers exclusive facilities in natural environment to provide guests with the relaxing experience. Golfers can also enjoy the spa after their time here.
Casino in Gangwon Province

Located in Gangwon Province, High1 Resorts offers a variety of pleasurable pursuits. With golf courses, ski slopes, a casino, and hiking trails, the resort boasts a variety of activities. If you want to create new memories, then this is the place to go.
European Beach Vacation in South Korea

It's easy to forget you're not somewhere on the coast of Spain while staying here. Let yourself be transported by the atmosphere, sunshine, and sea breeze. Visit the nearby salt museum and salt farm observatory to experience a little something different. And hey, don't be salty if you don't get a room in time before it's fully booked.
Family-friendly Resort

The array of activities they offer is perfect for everyone in the family to enjoy the stay here. Whether you're feeling adventurous or want to unwind, you'll be able to fulfill your desires with just a hop away.
Luxury Golf and Spa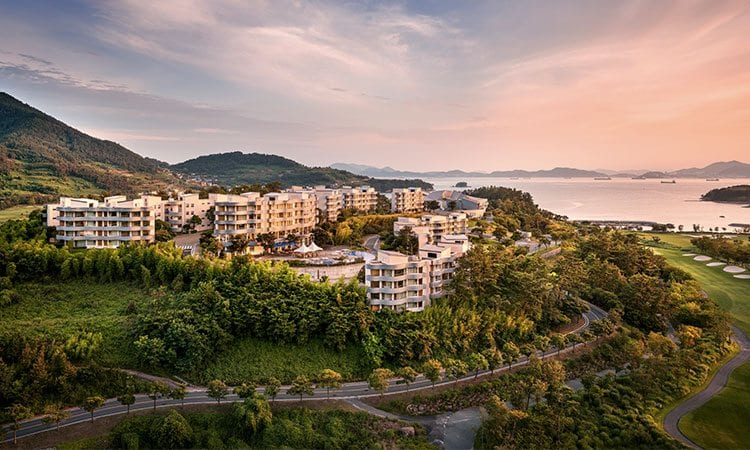 Hilton Namhae Golf and Resort Spa is perfect for couples or families with members who enjoy golfing and relaxing. The location is their main attraction with spacious rooms overlooking the beauty of the island. Home away from home, but better.
Best Resort in Busan

If a true escape from the hassles of daily life is what you want to find, this is the place for you. It doesn't get much more relaxing than this. No itinerary needed.