Korea offers a set of unique hotels made for an unforgettable experience. Travel with your dog and spoil him with the extraordinary service at the Hotel Cappuccino in Seoul. Or stay in a cruise-shape hotel built over a hill with a precious ocean view in the Sun Cruise Resort. No matter which kind of taste or requirements you need for your trip, Korea has it all.
Unique Hotels and Pensions In Seoul
You no longer have to choose between traveling and dining out or staying with your beloved canines any longer. Hotel Cappuccino, Seoul's leading lifestyle destination, not only welcomes them: they go out of their way to provide them with the very best in doggy services and facilities.
Located in Gangnam, the dynamic southern heart of Seoul, it is the perfect home from home for international travelers and Seoulites seeking a new-yet-friendly, fun-yet-cause-driven hotel.
Hotel Cappuccino will amaze, delight and inspire you. Are you ready?
Price: Rooms start at ₩100k
Address: 155, Bongeunsa-ro, Gangnam-gu, Seoul 06122
For more info: English
Rakkojae Seoul is a Korean traditional culture space with a history of 130 years. It was renovated by Human National Treasure – Master Carpenter Young Jin Chung in 2003 and has since received international acclaim for it traditional Korean architecture. Savour a traditional Korean course meal, experience tea ceremony, relax in the yellow-mud sauna or make your own Kimchee.
Price: Rooms start at ₩160k
Address: 49-23 Gyeonggi, Jongno-gu, Seoul
For more info: English
Christie Hotel | Jung-gu, Seoul
Enjoy a bubble bath inside of a gigantic high hell tub and an art deco setting surrounding you. Christie Hotel is affordable and surreal.
Price: Rooms start at ₩25k
Address: 2504 Chungu, Gwanjang-Dong
For more info: Korean
Pensions Outside Seoul
Gyeongju Hanok Pension | Gyeongsangbuk-do
The former Silla Dynasty capital of Gyeonju is full of Hanok minbak, or shared Hanok-style accommodations. But those looking for something more private can try Gyeongju Hanok Pension. The pension was constructed from scratch with private travel lodgers in mind.
Price: Rooms start at ₩130
Geomeok-gol Hanok Pension | Anseong-si
If you're looking for a secret, quiet place for families, then Geomeok-gol is for you. This hanok pension is hidden away near Geumgwang Lake in Gyeonggi. It's trusted by Korean mothers for its clean, environmentally-friendly facilities.
Price: Rooms start at ₩170
Maeryo 37.5 | Ongjin-gun, Incheon
For something closer to Seoul, try this beachside pension in Incheon. Maeryo's mid-century modern concept gives the whole building a pseudo-nostalgic charm. The West Sea location means you can also watch the sunset from your room. A long outdoor pool, a hinoki spa, and a photo studio for guests are just some of the amenities available.
Price: Rooms start at ₩160
Cotiere Yangyang-gun | Gangwon-do
Each building follows a structural expressionist design that mimics the shape of a wave rising from the ocean. Sculptures dot the expansive verandas. Luxurious outdoor barbecue areas are partitioned with trendy faux-industrial concrete walls and accessorized with baroque furniture and paintings.
Price: Rooms start at ₩140k
Address: 596-7 Hagwangjeong-ri , Gangwon Cheonbuk-myeon, Yangyang

The hotel boasts ultra-opulent guestrooms that are adorned with beautiful designer furnishings and accented by modern amenities. The decorative scheme is a combination of Korean arts and crafts with the ambiance of a South African safari.
Price: Rooms start at 350k
Address: 35, Jungmungwangwang-ro 72beon-gil, Seogwipo-si, Jeju-do
For more info: English
Claire Pension | Gapyeong, Gyeonggi-do
Dark glowing rooms with Nintendo Wii and couple showers is what you get in Claire Pension. You would not need anything else in this place.
Price: Rooms start at ₩160k
Address: 455-18 Baekdun-ri, Buk-myeon, Gapyeong-gun, Gyeonggi-do
Herb Island | Pocheon-si, Gyeonggi-do
Stay in the houses of the heavenly Herb Island. Enjoy the museums, restaurants and bakeries of the area. You could choose from Boutique and classy houses to fantasy thematic pensions.
Price: Room start at ₩250k
Address: 517-2 Samjeong-ri, Sinbuk-myeon, Pocheon-si, Gyeonggi-do
For more info: English
Hwacheon Train Pension | Hwacheon-gu, Gangwon-do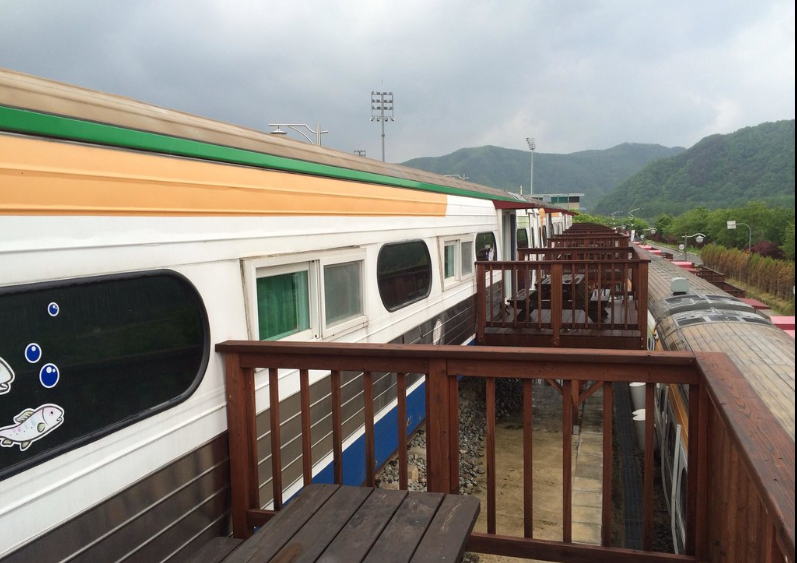 All on board! Disconnect like you are traveling to a land far away, enjoy the mountainous view from a Pension built inside of a train. Hwacheon Train Pension is for relaxing and being in touch with nature.
Price: Rooms starts at ₩80k
Address: 3331-12, Chunhwa-ro, Hanam-myeon, Hwacheon-gun, Gangwon-do

Asan Cozy Theme Pension | Chungcheongnam-do
There´s something in Korea about high heels and Asan Cozy Theme Pension is no exception. Luxury is the focus of all rooms in this place, from Gucci to Louis Vuitton rooms, enjoy yourself in this dreamscape venue.
Price: Rooms start at ₩90k
Address: 240-1 Gangdang-ri, Songak-myeon, Asan-si, Chungcheongnam-do
Lamang Pension | Gyeonggi-do
Yes, you can chill inside of an spacious and crazy decorated bus. Not only that Lamang Pension also offers rooms with themes like a beer room, jail simulation, spongebob, you name it.
Price: Rooms start at ₩70k
Address: 565 Jeryeong-ri, Buk-myeon, Gapyeong-gun, Gyeonggi-do
For more info: Korean
Rock it Suda | Gangwon-do
Hammocks, design and rock and roll. Rock it Suda. Stay at this exotic rooms and escape from the city stress.  The modern and daring  design of the rooms is like nothing you ever seen in Korea.
Price: Rooms start at ₩80k
Address: 2188 Punggok-gil, Hwaam-myeon, Jeongseon-gun, Gangwon-do
For more info: Korean
ChezLee Pension | Tongyeong
Chez Lee Pension provides magical setting rooms for any kind of traveler. Well-known for its hospitality and fancy furniture. Have a unique stay at Chez Lee.
Price: Rooms start at ₩70k
Address: 1083 Pyeongrim-dong (30 Galmok-gil) Tongyeong-si Gyeongsangnam
For more info: Korean
Bobos hotel offers all the services you need while providing an experience that you will never forget. Feel like the Egyptian gods in one of their thematic rooms, behold the esfinge comfortable bed.
Price: Rooms start at ₩60k
Address: 1018-14, Kwonsun-dong, Kwonsun-gu, Suwon City Center, Suwon-si
For more info: English
Hanbang Resort | Sancheong-gun
Enjoy a relaxing view of the Gyeonghogang river from this cute mushroom shaped resort. Hangbang is the place to be for those who want to be in touch with nature and rest from the city life.
Price: Rooms start at ₩80k in high season (July and August) and ₩50k in low season
Address: T372-15 Nae-ri, Sancheong-eup, Sancheong-gun, Gyeongnam
Happy House Santorini | Gyeonggi-do
The Greek style of Happy House Santorini plays perfectly with the Korean Western coast. Reserve with time since there are only highly demanded 20-rooms. Enjoy a setting that you will not find anywhere else in the country.
Price: Rooms start at ₩140k
Address: 798-8 Songgyo-ri, Seosin-myeon, Hwaseong-si, Gyeonggi-do
For more info: Korean
Happy World Jongihak Pension | Seonjae-do
Get away from the monotony of the city and enjoy this innovative pension. Enjoy the fantastic and epic world in the Jongihak Pension by staying in a surreal tree house or a mushroom-style pension.
Price: Rooms start from ₩75k
Address: Seonjae-ri, Yeongheung-myeon, Ongjin-gun, Incheon
For more info: Korean
Aladdin Pension | Daebu-do
Looking for a couple´s retreat, Aladdin is your place. First class spa and a view to the sea. Feel like in the most hip middle eastern venues and enjoy a romantic evening with your love one.
Address: Daebu-do 1870-107, Ansan
Gulliver's Travel Pension | Daebu-do

Stay in a pirate ship-style room just like in the television series. You can hang around in an old fashioned pub with stunning decorations and play darts and board games.
Price: Rooms start at ₩130k
Address: 1870-98 Daebubuk-dong, Danwon-gu, Ansan-si, Gyeonggi-do
For more info: Korean
Fanta Lucia Pension | Daebu-do

FANTALUCIA is within 1 hour from the Incheon international airport. The pension has vast and beautiful scenery of the Yellow Sea. There are also pretty and unique 10 buildings look like ice cream, mushroom, light house, the Opera House of Sydney etc…
Price: Room starts from ₩80k
Address: 152 Seongam-dong, Danwon-gu, Ansan-si, Gyeonggi-do
If what you're looking for is a conveniently located hotel in Gapyeong-gun, look no further than Cozy Theme Pension. Guests can choose from 7 rooms, all of which exude an exotic atmosphere of total peace and harmony. Throughout the day you can enjoy the relaxing atmosphere of the hiking trails, billiards, garden.
Price: Rooms start at ₩100k
Address: 604 Baekdun-ri, Buk-myeon, Buk-myeon, Gapyeong-gun,
For more info: English
All guest accommodations feature thoughtful amenities to ensure an unparalleled sense of comfort. The hotel offers fantastic facilities, including hot spring bath, golf course (within 3 km), skiing, to help you unwind after an action-packed day in the city.
Price: Rooms start at ₩140k
Address: 476-851, 32 Buan-ri, Danwol-myeon, Yangpyeong-gun, Gyeonggi-do
For more info: English
The hotel has a good view of the ocean and Halla Mountain and was designed by the prestigious architect Itami Jun. Podo Hotel's Korean  style rooms are made with eco-friendly materials in a traditional way.
Price: Rooms start at ₩360k
Address: 863 Sallongnam-ro Andeok-myeon, Seogwipo-si, Jeju-do
For more info: English
Sun Cruise Resort and Yacht, the world's first on-land premier cruise resort located on a coastal cliff, you can design your own special travel. This resort is home to 211 bedrooms, both condominium and hotel style.
Price: Rooms start at ₩180k
Address: 50-10, Jeongdongjin-ri, Gangdong-myeon, Donghae East Side Sea, Gangneung-si
For more info: English
Starlight Novel Pension | Gapyeong-gun
You'll know you're not in Kansas anymore when you stay in a witch hat topped pumpkin based on the Wizard of Oz, or hole up with the Smurfs inside a giant mushroom. While Under the Starlight's schizophrenic fairy tale digs are not fancy, they do provide food for the imagination.
Price: Rooms start at ₩150k
Address:  491-2 Gapyeong, Gyeonggi
For more info: English
Domgrami Pension | Jeju 
Located on Jeju Island, this pension's cottages are modeled after the shape of Jeju's famousoreum, or parasitic volcano cones–basically, the hills that dot the island. Each cottage's walls are also made out of Jeju's aerated volcanic rock.
Price: Rooms start at ₩190k
Address: 137 Gasi-ro Pyoseon-myeon Seogwipo Jeju-do

Grumpy House | Taean-gun
These spacious interiors and ocean views will definitely not leave you feeling grumpy. Actually, this pension's name comes from yet another fairy tale character, this time from Snow White. The nearby island of Anmyundo is also worth a visit, as it is famed for housing beaches, mountains, and gardens all in one area.
Price: Rooms start at ₩170k
Address: 1110-30, Anmyeon-daero, Nam-myeon, Taean-gun, Chungcheongnam-do
For more info: English / Korean
Farm Cottage | Gapyeong-gun
Sail across Cheongpyeong Lake to the foot of Jangrak Mountain to find a pair of authentically preserved hanok villas, now converted into pensions for guest stay. This is the perfect place to enjoy untouched natural surroundings in a classic atmosphere.
Price: Rooms start at ₩150k
Address: Seorak-myeon, Gapyeong-gun, Gyeonggi-do
For more info: English / Korean