The Seoul Bamdokkaebi Night Market is one of the most popular Seoul attractions by foreigners in South Korea, and visiting at least once is a must.

The Bamdokkaebi Night Market was first launched in 2015 at its first location in Yeouido Hangang Park, organized by the city of Seoul. The market's structure originates from "dottegi markets," which are markets where wholesale trade and secret trades took place. The unique name is inspired by dokkaebi ("doh-keh-bee"), an ogre common in Korean folklore that use their clubs to make magic and play around.
What started off with a team of 120 food trucks and goods sellers now has over 500 teams, 4 different locations, and two seasonal locations, all of them which are accompanied with a beautiful Seoul night skyline.

Fun fact: Dokkaebis 'Bam-i' and 'Dal-i' are the market's mascots because they bring fun to the markets by using their clubs.

Each market location has a special theme, so this article will introduce you to each of the ongoing markets currently, their uniqueness, and what to expect in each location. For more information, click on our directory link here.
Fridays & Saturdays 18:00-23:00
The Yeouido location is where it all started, and its special theme is the World Night Market! Located right by the Hangang River at Yeouido Mulbit Plaza in Yeouido Hangang Park, this market features sellers from all over the world and is a multicultural hands-on market.
Its highlight is the World Zone, where souvenirs from all over the world are displayed and sold. The World Zone also features a space that provides content to experience other cultures and other famous night markets in the world through audiovisual content.
Treat yourself to a nice meal by going through the popular food trucks that sell foods from all over the world at the Food Zone, and walk through the Handmade Zone to see and buy one-of-a-kind handmade items.
Watch diverse cultural performances, busking, hands-on programs, and more along the Han River at the Event Zone.
Fridays & Saturdays 18:00-23:00
Banpo Hangang Park is already famous for its rainbow music fountain show. It is also next to Some Sevit, a floating architectural LED structure that houses restaurants and event spaces, and also, the filming location for Dr. Helen Cho's "gene laboratory" in Avengers: Age of Ultron. Whether you're with a lover, friends, or family, spend a romantic evening with loved ones at the Bamdokkaebi Banpo Romantic Moonlight Market.
This market's Food Zone is different from Yeouido World Night Market's because it offers a romantic dinner at the Seoraenaru Food Court restaurant right by the Han River. The Handmade Zone displays artwork by talented artists that are unique to the Banpo Romantic Moonlight Market only.
The market's Romantic Art Zone is a space that provides hands-on art experiences for everyone, featuring a different form of medium every season.

Go watch live entertainment like the Bamdokkaebi Radio, one-act plays, performances of jazz, classical music, ballet, and more at the Event Zone that all form together to create a romantic vibe.
Fridays 18:00-23:00 and Saturdays 17:00-23:00
If you are not familiar with the Dongdaemun Design Plaza yet, it is a landmark centerpiece for Seoul's fashion district and known for its futuristic design. It is the main site that holds Seoul Fashion Week shows, as well as other exhibition spaces and design markets.
Aligning with these characteristics, the Bamdokkaebi Night Market's main theme at this location is the Youth Runway Market. This night market features "trendy cultural programs and brilliant, stylish ideas from young artists" with several musical performances. The items sold here often consist of fashion items, design goods, trendy accessories, and other everyday items that cater to youth tastes.
Visit the Food Zone where you can experience foods that you may have never seen anywhere else, as they are a result of creative ideas of youth and extensive experience of local kitchens.
Visit the Handmade Zone to see handmade goods from both young artists and experienced designers, and the Photo Zone that features DDP's futuristic, mesmerizing architecture in the background.
Enjoy hands-on activities, a monthly festival, and a grass hill at the Event Zone where you can sit down and relax, eat the delicious food from the Food Zone, and also watch weekly music performances.

Saturdays 17:00-22:00 and Sundays 16:00-21:00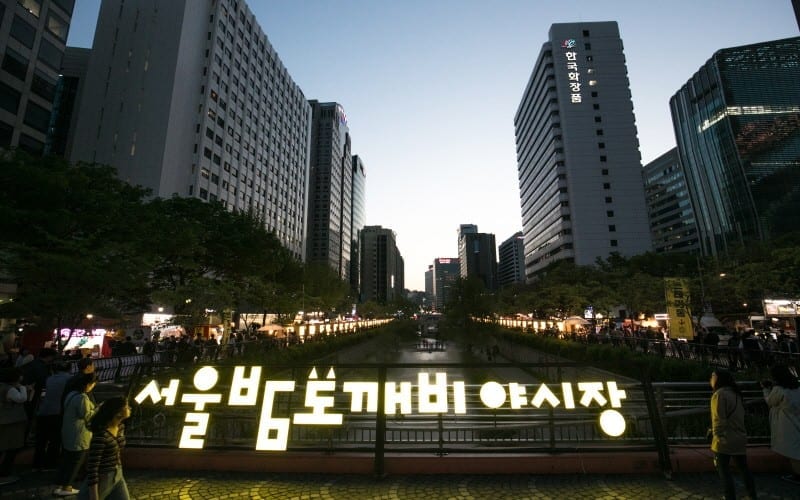 The last of the four main locations of the Bamdokkaebi series, the special theme for the Cheonggyecheon Time Travel Market showcases Korea's special characteristics. Through Korean artistic performances and souvenirs, the Time Travel Market is a tourist-oriented market at the center of Seoul.
Explore the Food Zone to taste contemporary twists of traditional Korean foods, as well as other international foods. The Handmade Zone offers handmade Korean souvenirs that both stick to tradition and feature a modern take on the goods.
The Time Tour Zone is a space that represents a timeline accompanied by various items that define the specific decade or period of history. The Event Zone provides a space to enjoy various performances and other exciting events.

The Bamdokkaebi Night Market Series also holds a Seasonal Market at the Oil Tank Culture Park and a Seoul Christmas Market, only active for certain time periods.
For 2019, the Seasonal Market at the Oil Tank Culture Park was held for three weeks in May in order to celebrate Family Month (May). The Bamdokkaebi Night Market will be back with another amazing market next year, so make sure to check out their website for updates! For more details about the market, click on this site.
There is also the annual Seoul Christmas Market held for only a few days in December surrounding Christmas Day. The dates for 2019 are not released yet, so if interested please check out this site for updates.
That's it for the Bamdokkaebi Night Markets! The different special themes each location has makes the visit to all of them unique and worthwhile. If you want to spend a night with your loved ones eating delicious food, looking around the artistic flea markets, all the while enjoying a great night view of the Seoul skyline, the Bamdokkaebi Night Market is the place to go.
If you've been to any of the locations and have a favorite one, make sure to share your experience in the comments below!