Top Reasons To Come To Itaewon
Korea is just about as homogeneous society as it gets. But this is why there are so many good reasons to come to Itaewon. For Korea in general, just walk the streets and you'll bob in a sea of black hair and lots of people dressed in the preferred color: black.
Head to restaurants and you'll be hard-pressed to find one where you eat your meal with forks. Soju is everywhere, and now there are so many different brands and flavors to choose from. This is where Itaewon comes into play, it's a completely different area here.
It's a great place to go when you want to visit another country while being in Korea, kind of like visiting Chinatown, only it's not one country you're visiting but many. If you're lucky enough to live here, then you get to be in Korea while simultaneously having the world in your backyard. We kind of like it. Here are our top reasons to come to Itaewon.
One of our first reasons to come to Itaewon has to do with Koreans that eat the same thing 3 meals a day. They don't have a concept of "breakfast" foods being eggs, pancakes, waffles, and breakfast meats, hence they're out blogging how they had a great pasta for "brunch" in a restaurant absent of bacon and bagels.
Essentially to a Korean the word "brunch" itself just sounds cooler than saying I had lunch. Do you want a real eggs benedict? Head to Itaewon. The Original Pancake House will deliver, along with a dozen other great restaurants.
Randy Chiu via Flickr
There are few more diverse neighborhoods in the world. No, I'm not exaggerating.
That's because in other major cities, the immigrants come in larger numbers and they split off into their own areas of the city, but in Korea, all the immigrants congregate together in our little haven of Itaewon.
Russians, Indians, North & South Americans, Africans, Europeans – they all live together peacefully and respectfully and learn about each other's cultures because this is where minorities thrive – all together.
3. Authentic Cuisine From Around the World
Thai, Chinese, Japanese, Italian, Indian, and French? Got 'em all. How about a real challenge? Bulgarian? Check. South African? You bet. Moroccan? Yup? Russian? Sure, we have that too.
How about an international wine bar & restaurant with a native Spanish chef, a native Kazakhstan chef, and a Korean chef who crafted her Italian cooking in Italy?… You gotta love it.
Photo by TheBusyBrain
You might ask yourself what is there to do in Itaewon? Well, Just a 20-minute walk from Itaewon station sits a dense mountain, in which you will completely forget that you are in the middle of one of the most densely-packed cities on earth. The Namsan tower is on top to get a beautiful view of the city.
You can get an amazing view at night or during the day. What a great place to get your daily exercise in.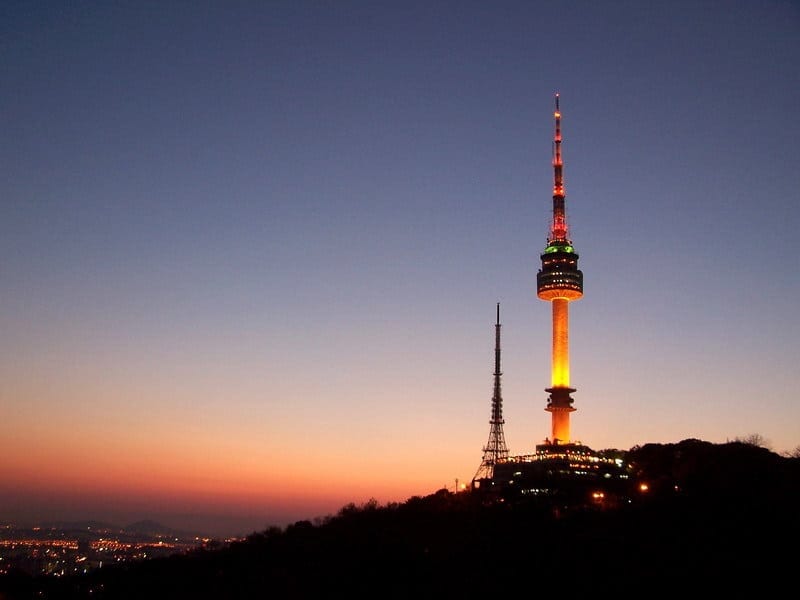 This is one of the few places in Korea where people can come out without much of a reaction from anyone.
A bunch of misfit foreigners together leads to an acceptance of difference that is rare in the rest of Korea.
We even have our own hill where gay people are the majority, but they are by no means limited to that area anymore.
Guillaume Paumier via Flickr
Yup, they're different from other Koreans. They may speak English, but then again they may not.
Either way, if Koreans are in this area, it's because they are open-minded and enjoy meeting foreigners and experiencing new cultures. That's just cool.
Jordi Sanchez Teruel via Flickr
All that money Samsung's raking in nowadays is great for the namesake museum of Samsung head Lee Kun-hee.
If you're looking to take in some great culture on a Sunday, this is where you want to spend your time.
conbon33 via Flickr
Sure, there may be more craft beer joints in a city in North America, but you'd be hard-pressed to find a single neighborhood with as many great beer-drinking options.
From Craftworks, the original brewpub that started it all, to Bonny's Pizza Pub with its 91 self-serve beers in the bottle, to Reilly's Taphouse with almost 40 beers on tap in addition to plenty of bottles, you'll find plenty of unique ways to wet your whistle.
Guy Renard via Flickr
Koreans and foreigners alike are more attractive than your usual around here, a lot of which has to do with good-looking people from other areas visiting to show their wares.
Expect to have a sore neck from checking out all the beautiful people walking around this place.
Credits to Jakob Montrasio
10. We're the Center of Seoul
Gangnam and the Renaissance Seoul Hotel? 20 minutes to the south. Seoul financial center Yeoido and the massive IFC Mall? 20 minutes to the southwest.
City Hall and Gyeongbok Palace? 20 minutes to the North. Gimpo Airport? Immigration office? World Cup Stadium? 30 minutes to the west.
No matter where you have to go in Seoul, it's not far. You also save time as your friends are always happy to head to Itaewon when you're meeting a couple of them from different areas; you're in the middle after all!
Photo by Malink_78 via Flickr