Jeju Haenyeo School Helps Local Sacred Tradition Live On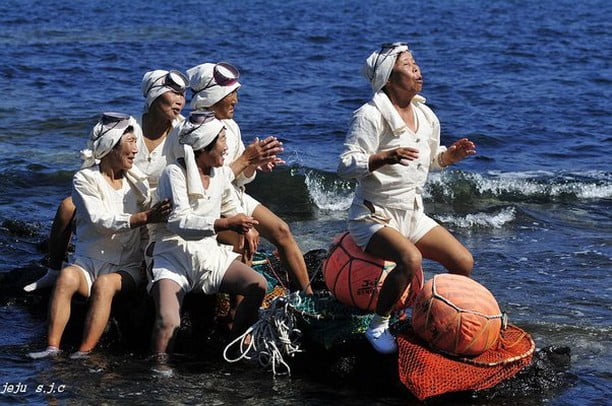 Words by Dave Cunning
Amongst Jeju Island's most iconic figures, haenyeo (divers) are just as revered as Hallasan volcano dolharubang (fertility statues), and other well-known local originals. But with Jeju's majority populous of elderly female divers dwindling, and advanced fishing technologies encroaching their productivity, the Jeju haenyeo are in danger of vanishing.
Luckily there is the Jeju Hansupul Haenyeo School which opened in 2007 in Hallim along the western coast of the island. There prospective haenyeos can learn the craft from seasoned pros, help preserve the culture, and perhaps become part of the next generation of Jeju's marine gatherers.
Applications for approximately 70 spots are accepted every April, and the competition for openings is tight. Many are turned away, and many reapply. Last season's training included five foreigners and ten mainland students, while the rest hailed from Jeju. Both men (male divers are called haenam) and women can apply, despite the trade traditionally employing only women. Speaking Korean and possessing superior swimming ability are not necessary, but the ability to hold your breath underwater for multiple minutes like veteran Jeju haenyeos can is invaluable.
Four-hour classes run every Saturday between May and August, teaching lessons on haenyeo history, pressure equalizing methods, diving techniques, first aid, safety, aquatic life identification, and of course, diving and collecting practice in the ocean — without the aid of scuba equipment. Savvy divers may even find themselves chowing down mid-dive on a freshly-caught octopus, abalone, or other target snagged with their own two hands. The certification course costs only W100,000 and includes a wetsuit, but you'll have to bring your own diving mask and fins.
For more information on the Jeju Hansupul Haenyeo School, visit cafe.daum.net/jejudiver. If you enjoyed this article about Jeju Haenyeo School make sure to check out, Hanbok: The Future of Korean Traditional Dress.