If you're planning a trip to Seoul, South Korea, but are still wondering what are the best districts and places to book your accommodation, this article is for you! We analyzed not only ease of access via major public transportation (subway and buses), but things to do, nightlife, safety and more! Whether you're looking for a guesthouse, hostel, Hanok house, hotel or luxury stay, discover the characteristics of each popular district below.
Best Place #1 – Hongik University aka Hongdae (Mapo-gu, Seoul)
Cheap guesthouses/hostels, close to a major subway station, and amazing nightlife.
Hongdae is probably one of the most known areas in Seoul, just after Gangnam. If you're aged between 15 and 25, you will most certainly love this place, especially if you're into street fashion, K-pop and dance. Hongdae is known as the district that never sleeps, thanks to its young population of students. It is the home to many buskers, nightclubs and "Pochas" (Korean-style bars). So if you wanna have fun, meet new people and go out throughout the night, Hongdae is the place to be.
Hongdae offers cheap options, as well as some trendy and luxurious options for accommodation. It's also accessible via the AREX Line (Airport Railroad) and many airport buses. Check out our recommendations for Hongdae hostels, guesthouses and hotels below!
Best Place #2 – Gangnam (Gangnam-gu, Seoul)
Many things to do, subway line access, a more modern feel.
Your friends or parents might not know the difference between North and South Korea, but they most definitely know about Gangnam! That's how famous the district became after the song Gangnam Style by PSY went viral around the world. Gangnam is the financial and wealthiest district of Seoul and its main streets are all skyscrapers, luxury stores, hotels, offices, famous nightclubs, plastic surgery clinics, and wedding venues. It is home to a good part of the actors and singers in Korea. This district will be best fitted to persons who like luxury, those coming for beauty treatments and/or for a convention at COEX Convention Center.
Gangnam's major selling point for travelers is that subway Line 2 runs through it. Line 2 makes a loop around Seoul, making it easy for travelers to hop on and off to hit all the desired tourist or business destinations. It is still easily accessible by airport bus. Check out our recommendations for accommodations in Gangnam. You can also find more options closer to Gangnam station here.
Best Place #3 – Konkuk University (Gwangjin-gu, Seoul)
Suburb feel, but great subway access, nightlife and things to explore. Expect cheaper places here!
Konkuk University is a lesser-known area of the city to travelers. It has the same vibe as Hongdae, with packs of people walking the streets at night, but just a little less crowded. The Konkuk University area is all neon streets, restaurants, bars, street food, karaoke, and all you could look for if you want to spend a fun night out!
Konkuk is only a 20-minute subway ride from the main attractions in Seoul (downtown Seoul and Gangnam) and is also close to Ttukseom Han River Park. It is a good choice for younger travelers and people who have visited the bigger places before. Because it's a quieter neighborhood, there are tons of cheaper options for hostels, hotels and more in Konkuk University.
Best Place #4 – Gwanghwamun (Jongno-gu, Seoul)
Luxury, good for families, great public transportation, great for short-term and business travelers
Jongno is a huge district North of the river and is home to almost all downtown Seoul. It also incorporates Insadong (see below). All the main attraction in Seoul are located in this district: Gyeongbokgung et Changdeokgung Palaces, Cheongyecheon, Insadong, Myeongdong, Bukchon Hanok Village, Jogyesa, Dongdaemun, etc. Namsan Park and Namsan tower are close by public transportation. This district is reputed to have the most expensive real estate in Seoul. Apart from that, it's a nice place to stroll, it is lively and it's one of the best places to stay if you're looking for convenience.
Gwanghwamun is considered THE "downtown" area of Seoul. While options will be a bit more expensive, you will be rewarded with ease of access to metro stations, as well as proximity to tourists sites such as the palace, Insadong, Bukchon Hanok Village and more. Check out our recommendations for places to stay in Gwanghwamun.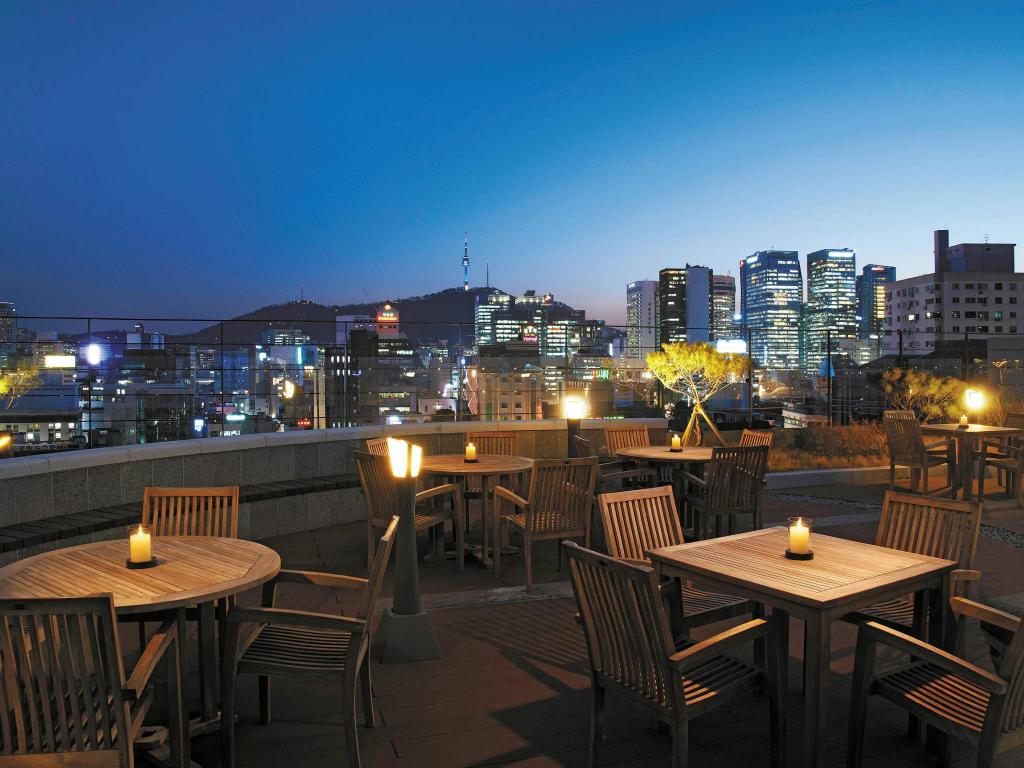 Best Place #5 – Insadong (Jongno-gu, Seoul)
Culture, arts, sightseeing, things to do! Great for families and short-term travelers
Insadong is a perfect place if you want to discover the historical part of Seoul and shop for traditional items and souvenirs. It is near to all the main attractions in Seoul, such as the palaces, Bukchon Hanok village, Ikseon-dong, Cheonggyechon, etc. This is also a good alternative to Myeongdong since you won't have to face the crowds walking the streets every day, and you can easily go there by foot within 10 minutes.
If you're a traveler coming for the beauties of Korean culture and history, Insadong will be an excellent pick for you! We also recommend this place for people who are staying a short time in Korea, as it's easier to see more attractions in less time!
If you still haven't found a place that catches your eye after scrolling through this article, check our Directory to see more accommodations available in Seoul and all South Korea.