Moving to Korea can seem like an expensive decision, especially for those who choose to live in the bigger cities like Seoul. Once you have bought your plane ticket, insurance and visa, it may feel like there is no money left to enjoy life in the city.
Resisting the temptation to turn every day into a shopping spree can be challenging when virtually every street is lined with clothing and beauty stores, restaurants and cafes. For those of us living on a budget in Seoul, it is easy to feel restricted, but these small habits will help you save money while enjoying city life.
Airbnb
If you have an extra room in your apartment, consider listing it on Airbnb. Airbnb is a great way to make passive income and can introduce you to new people from around the world. Listing is free and you can choose when you are ready to host guests. 
Free Samples
Most cosmetic stores offer free samples when you make a purchase. Over time, these add up and will save you a lot of money as you can use them instead of repurchasing products. Generally, the more you spend, the more samples you are given, so ensure you buy everything you want from a store in one transaction.
In busier areas like Myeongdong, the store employees stand outside the shop offering free samples to customers who go inside. You can accept these free samples, browse the shop, and leave without buying anything. This allows you to sample products before you buy them, and will trick you into believing you have bought something without spending a penny.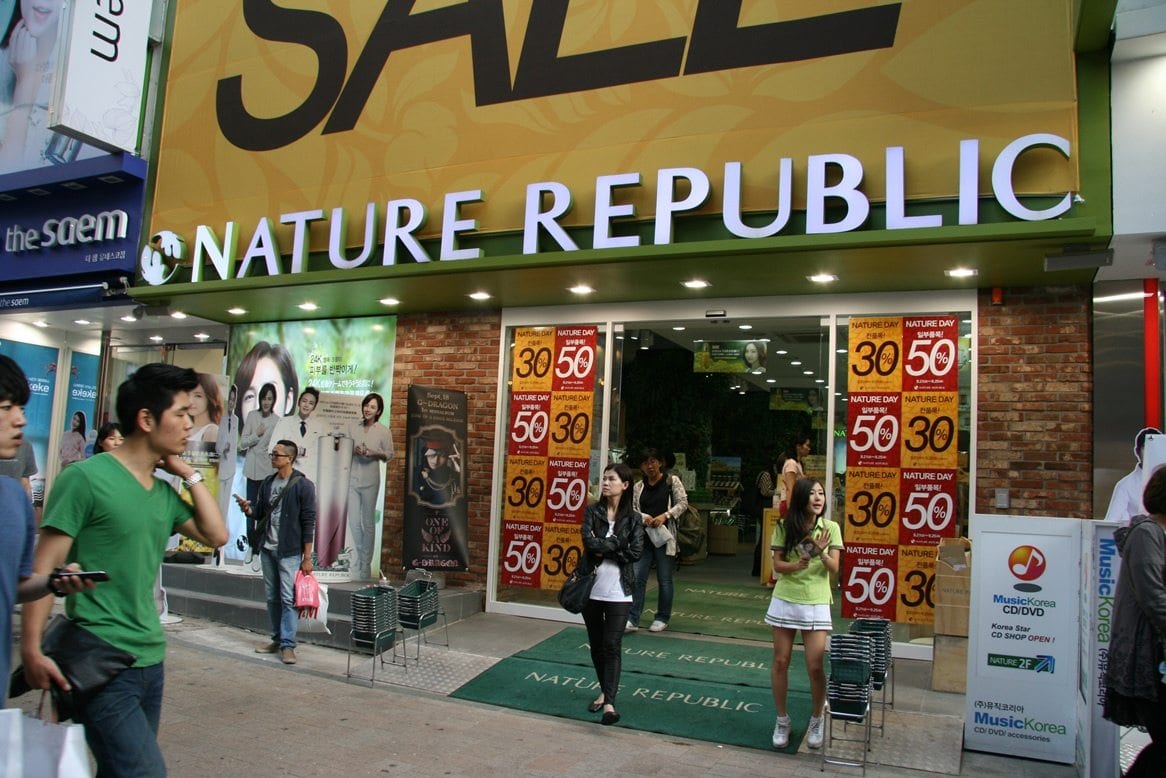 Banchan
Although food is relatively cheap, the cost of eating out on a daily basis can quickly take a toll on your budget. In order to fill your stomach and stay within a budget, don't forget to make good use of the free side dishes, banchan, provided at most Korean restaurants. Keep on the lookout for places with unlimited banchan, such as Sunnam Siregi 순남시레기 and more. 
These side dishes are refillable with no added cost so if you are still hungry, make sure you know how to ask for more. Usually, side dishes are vegetable-based, such as kimchi which most restaurants serve, and so will keep you healthy, as well as on track with your budget.
Points Cards 
Point cards (or reward cards, or membership cards) are popular amongst Koreans as it helps them save easy money on purchases from department stores, bookstores, movie theaters, and more. With these cards, you can receive discounts, get updates on special events, and even receive free gifts. Being a member of the point card system opens you to special discounts as well as information on special promotions. Most of these point cards can be used in a variety of chain locations with the swipe of a card or a quick scan of your phone. As a guide for some points cards you can get, check out our article How to Use Points Cards in Korea.
Free Activities
There is no shortage of free activities for foreigners to enjoy in Seoul. Most temples and museums are free or charge a small entrance fee. You can enjoy a day packed full of activities without breaking the bank just by selecting free or cheaper things to do.
Outdoor activities such South Korea's parks and gardens are also a great choice for those on a budget without missing the beauty of the city. Check out the 10 Magazine Directory and choose the Entertainment category to find tons of free places to visit near you. 
Exercise
To keep fit on a budget, try out free outdoors forms of exercise such as hiking, rather than joining the gym. Hiking is extremely popular in Korea and is a great way to save some money while enjoying the beautiful views. You can also find beautiful hiking trails to visit via our 10 Magazine Directory.
The Han River is a popular destination for runners and is an accessible, free alternative to the treadmill. In many parks, exercise equipment can be found which is open for public use and will help you cut back on your gym membership.
Go Meatless
Although eating out is generally cheap in Seoul, the meatless meals are always the more economical option. Make a habit of choosing the vegetarian dish on the menu and you will find yourself making savings.
It is also a good idea to stick to eating at Korean restaurants rather than choosing western options which tend to be more expensive- save your favourite home comforts for special occasions.
Soju
If you are going to drink, soju is your new best friend. The distilled rice-wine beverage can be found in every convenience store, in a variety of flavours, for a very reasonable price. This is by far the cheapest choice of alcohol and is an extremely important part of Korean culture.
Good luck using these frugal tips out in the wild. If you have any that we didn't list, feel free to let us know by commenting below!